So last night I tried out my own version of the Ciate Caviar nail manicure & I'm personally not raving about it even though it looks really different and edgy. I'll get to the pros and cons in a little while but first I'll tell you how I did it. Obviously as you can see, the beads I've used are not the Ciate ones, as I bought a little pack of purple and denim mixture of beads for £1.99 on Ebay
here
. I was literaly so excited when they arrived that straight away I got my little nail polish box out and started to decide what colour polish to use. I choose to use white for the purple beads and a Barry M duk blue for the denim mix beads. I then followed the Ciate instructions and did two coats of varnish and applied the beads whilst the second coat was still wet and pressed them down to secure the beads. I was really chuffted with the result and continued to finish of the rest of my nails. I didn't apply a top coat as it dulls the bead design, so I just used it on the very tips of my nails instead.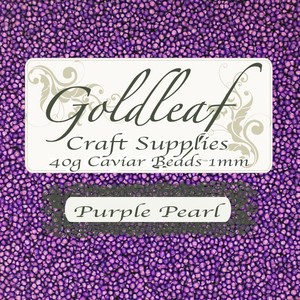 (I have realised that these micro beads I ordered are far larger than the ones used in the actual caviar manicure!
which may be the reason for many of my cons – sorry for the late realisation)
Use a thick nail polish and not a cheap one which might be thinner as it won't hold the beads very well
My beads came in a little bag so I dipped my nail in the bag rather then sprinkling the beads over the top as the Ciate instructions suggest.
I would probably only do it on one nail next time rather than all of them
It looks really nice once all the nails are done
Its a very different nail manicure which is going to stick around for a while
The manicure it self only lasts under 1 day. The beads fall off very quickly and it looks patchy almost straight away
The nail polish takes a lot longer to dry as not as much air gets to them as usual which leads to my next point…
It can be a little messy, as I ended up with tiny beads all over the place (mainly from ones that fell off my nails after I had finished applying them as they take a while to dry)
Overall I really like the Ciate Caviar manicure idea, and although I have not used the real Ciate Caviar manicure, I'm sure it will have the same pros and cons list as my own little version unless their nail polish is like super glue haha.
Have you tried the Ciate Caviar nail manicure yet?